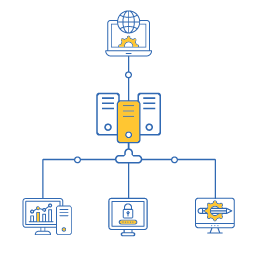 What is Tally Prime Server?
Previously known as Tally Server 9, is a must for all large and mid-sized businesses looking for effective features to transform their business. It is well known for enabling multiple users to carry out numerous tasks simultaneously. Due to its user-friendly attributes, it is a highly sought-after product that enables simultaneous, quick, and secure access to data across a single platform for numerous business operations.
It also provides immense control and power to users which helps them transform peer-to-peer access to an access point managed by the server. There is a high degree of scalability proved to be very efficient to access or modify data when working your way through this platform.
Features of Tally Prime Server
Multiple users will be able to load companies, save transactions, export reports, print reports, import data, take backups, and perform other data-related tasks at the same time, with no downtime or waiting.
You can say "NO" to downtime and data maintenance with Tally Prime Server. We ensure that the devices have continuous data availability with no downtime.

Stability & Reliability
It makes the system accessible from any location. It supports parallel 'Read + Write' operations and does not crash or terminate the application.
It enables the administrator to keep an eye on, control, and analyse user sessions as well as keep tabs on their activities. It has the ability to connect and disconnect users, boosting productivity and streamlining procedures.
Get right now!
Looking for

Scalibility?
Tally Prime server is the best option if you are a medium or large firm looking for scalability. You can contact our team to request a Tally software demo and learn more about how we can help you with Tally software implementation and to learn more about Tally TSS.
You can call on +91 86574 16091 to request a demo. You can also write us at sales@apexactsoft.com and we'll take it from there.